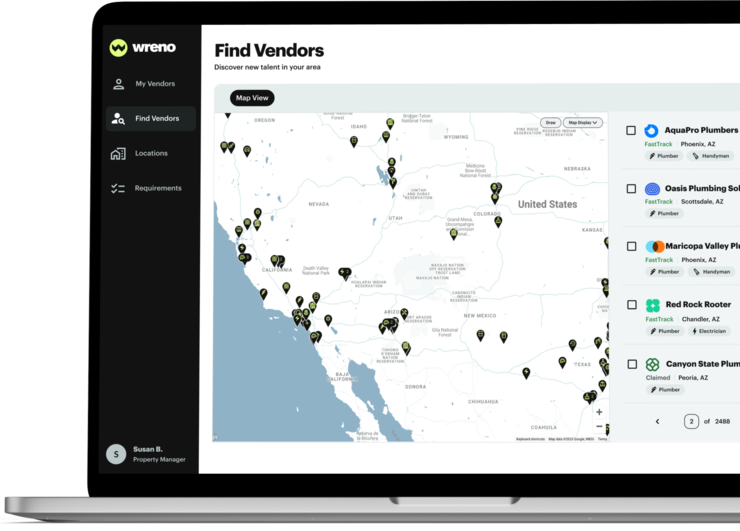 For Property Managers
Your Vendor Network,
On-Demand
Get the vendors you need, as soon as you need them. Easily access your existing network of vendors - and find new ones in ours.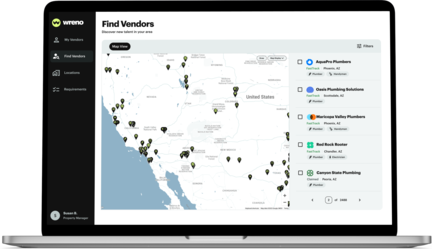 Vendor Management Resources
Automate Vendor Management 
Across Markets and Properties
Monitor your existing roster of vendors using our compliance dashboard. Easily qualify and hire new vendors.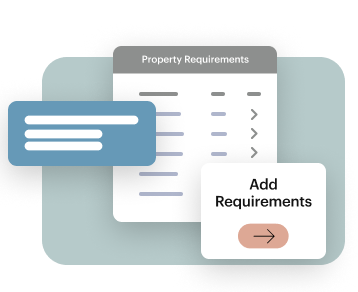 Customize Requirements
Be as detailed as you need. Customize specific compliance requirements and set them by state, market, property, or vendor type.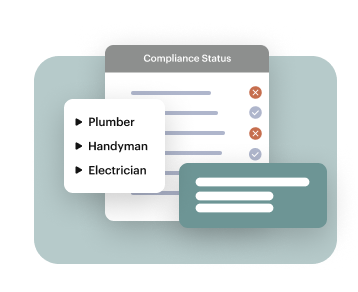 Review Status
See vendor compliance status at a glance. Quickly note which vendors are falling out of compliance soon and take action to fix it.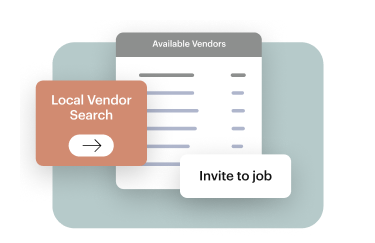 Find New Vendors
Search for the vendor you need by trade or specialty. If they're not on your roster, find one in your area that already meets your requirements.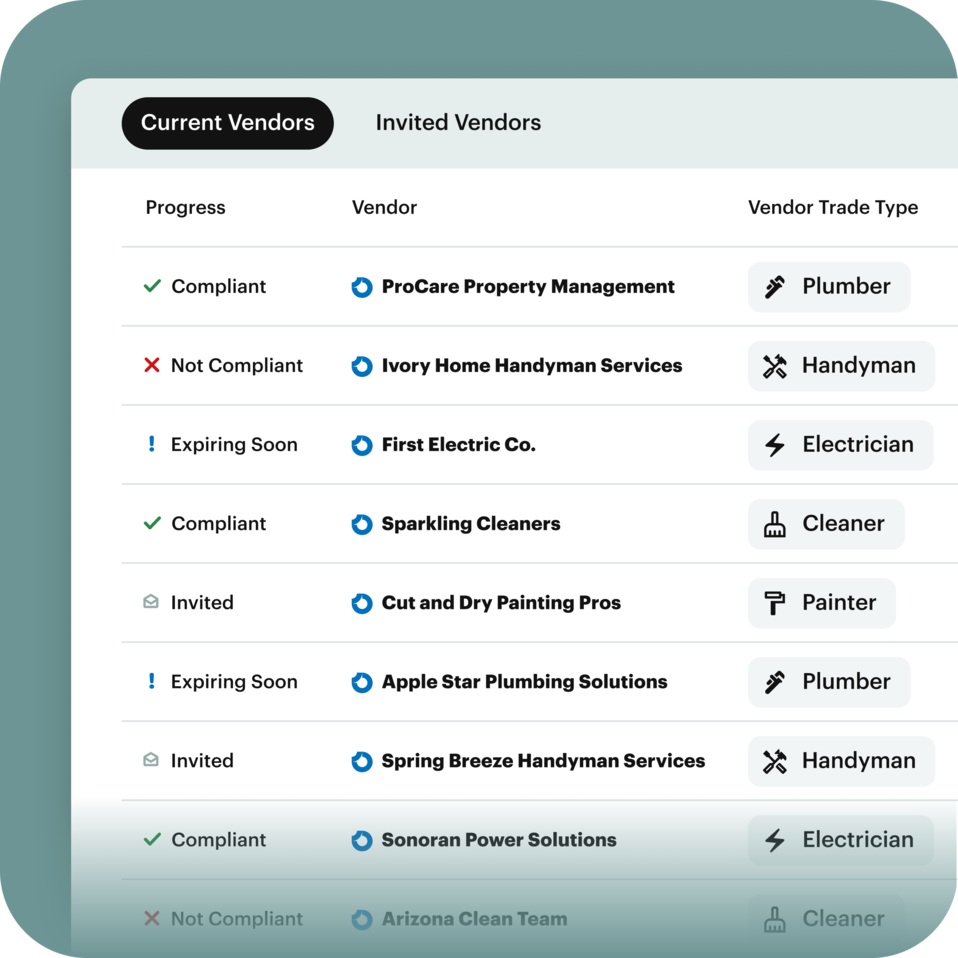 Vendor Compliance and Enrollment
Have Confidence in
Your Vendors
Non-compliance can be costly. Feel confident knowing your requirements are met across your entire team of vendors - including first-in-industry trade license verification.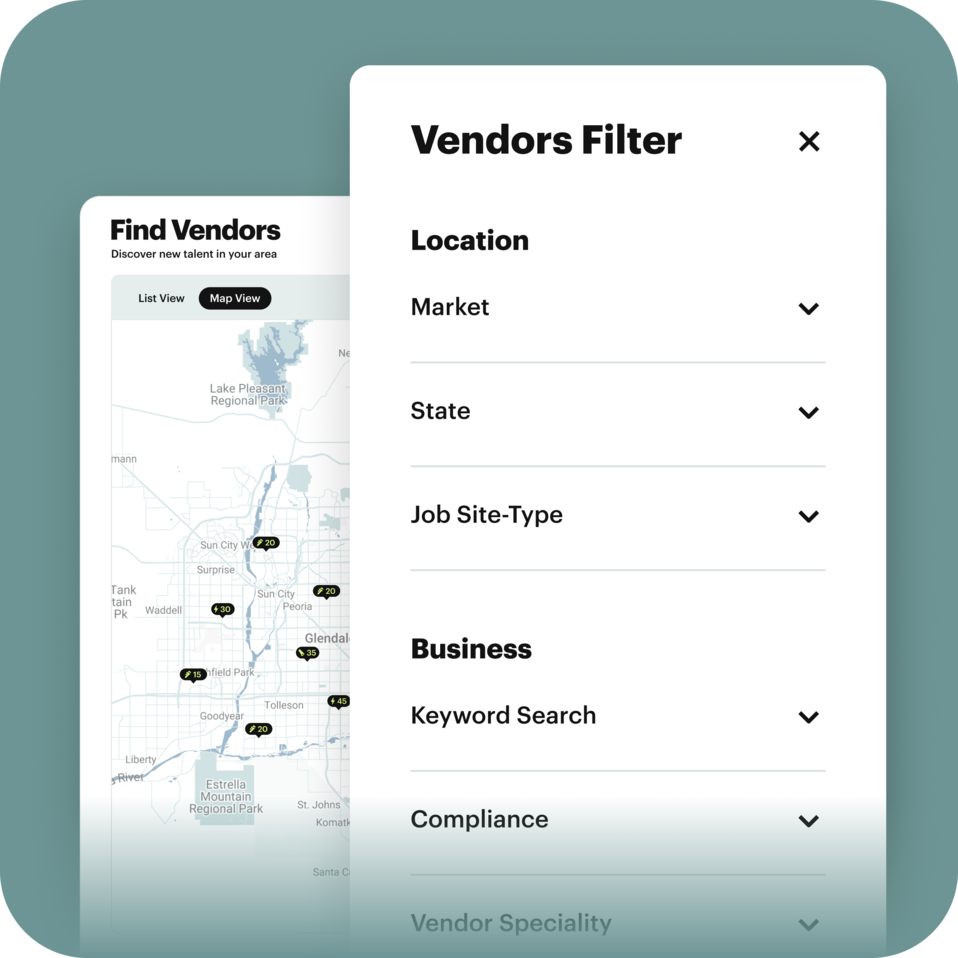 New Vendor Sourcing
Grow Your Vendor Network
Source from over 400,000 vendors. Fast onboarding with click-to-sign custom agreements. Mobile-friendly UI to improve vendor experience and compliance speed.
Questions About VendorEase?
How do I get more information?
We're so glad you're interested in Wreno! To get more information, you can click "Book a Demo" at the bottom of this page. Or, send our team an email at inquiries@wreno.io at any time to learn more. We'll typically get back to you in 1-2 business days.
What happens if my vendors change their information or services?
No problem! If any of your vendors update the services they provide - or any other information - you have access to process these changes from your vendor dashboard. The vendor can also do this themselves from their portal. Any trade-specific compliance requirements may apply to them once the changes are saved, and their compliance status may or may not change accordingly.
What if I assign an existing vendor to a new market?
Once you have assigned the vendor to the new market, the system will determine if they are still compliant or if changes to their documentation are necessary. If needed, they will receive an email notifying them that they are not yet compliant in the new market. They will also know what information, if any, needs to be updated as a result.
How does Wreno help during an audit?
While at this time we do not offer direct audit support, you will have quick access to all the documents your vendors have uploaded to VendorEase. There is also functionality to make a separate login for your auditor to take a look at the documents needed.
How do I find new vendors?
VendorEase has a database of over 400,000 vendors to choose from. You can browse by location, vendor type, compliance match, and more. If they accept your offer to join your team, they will show up on your dashboard just like your current vendors.
Can Wreno support my vendor onboarding tasks?
Yes! Wreno offers fully customizable electronic vendor agreements and workflows to make onboarding fast and easy. Vendors may also enter their business information into a profile which you can view at any time. You can choose which documents (W9, COI, licenses and certificates) are required uploads.
Product Inquires
Personalized Product Tour
Want to learn more about VendorEase and what it can do for you?
 Reach out to us to set up a demo for you and your organization.
Book a demo