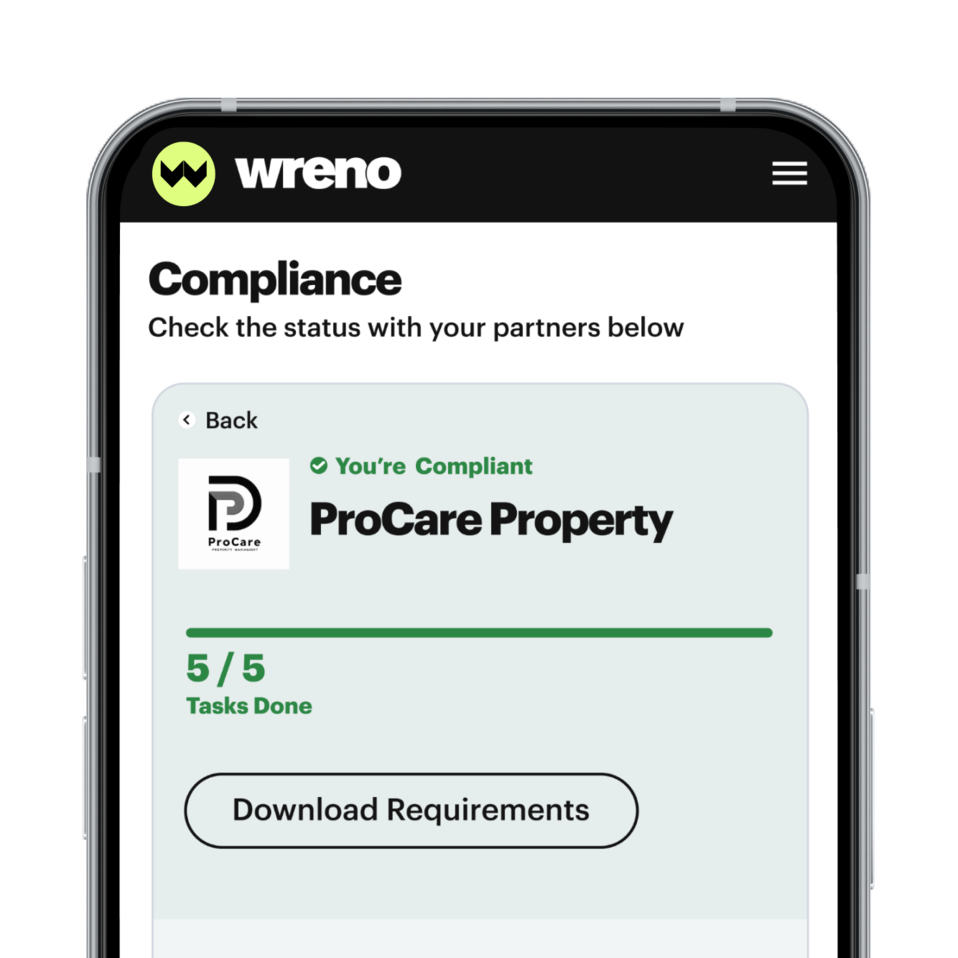 For Vendors
Access More Jobs with Less Paperwork
We make it easy to stay compliant with your customers. You'll have a clear picture of what's required and how to comply - so you never miss a job.
VendorEase
Designed to be Easy
We know your days are busy. VendorEase connects you to your partners

fast and friction-free - no redundant paperwork.
Less Guessing
You'll have full transparency into compliance requirements. Effortlessly track your enrollment status across partners.
Faster Enrollment
Easily complete onboarding checklists and upload files. You'll have Wreno's live support team available to help
when needed.
A-Z
Network of New Customers
Grow Your Business
Once you're onboarded, you'll be presented with new business opportunities through Wreno's network of property operators.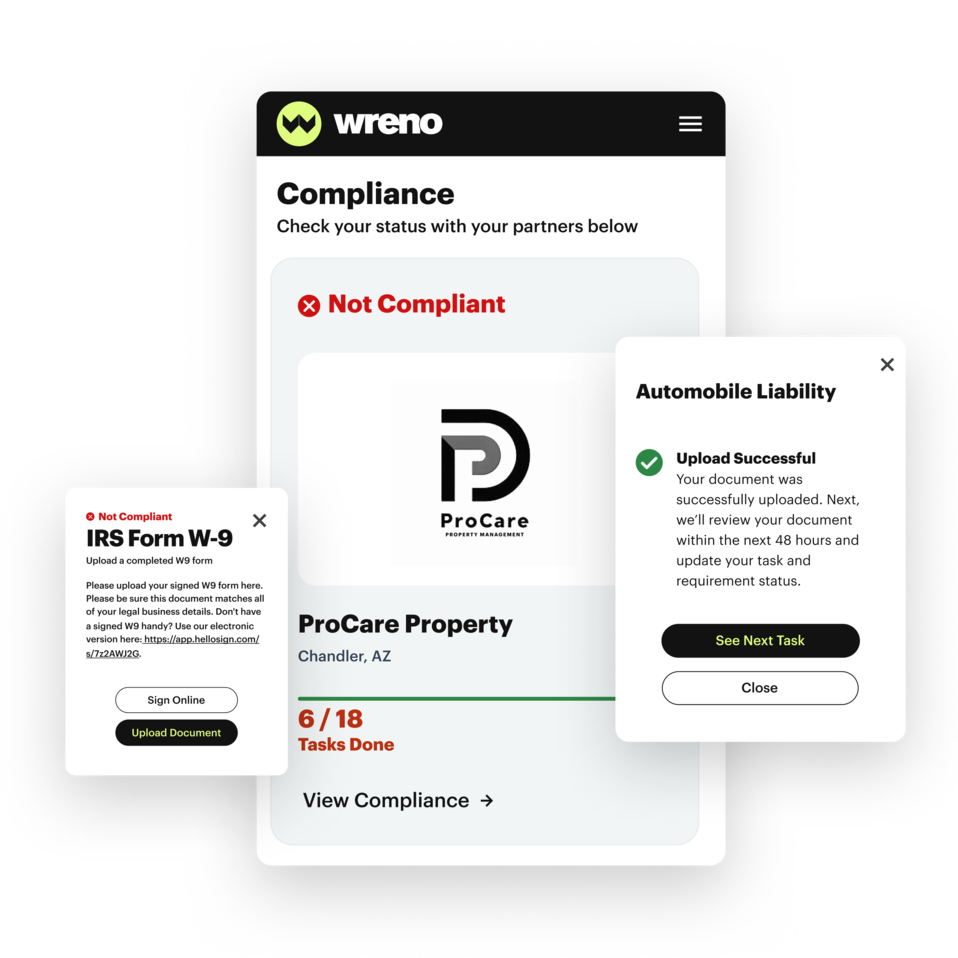 Mobile Friendly
Manage Compliance on the Go
View your compliance alerts wherever you are. With a mobile-friendly website, you can use Wreno the way you like best.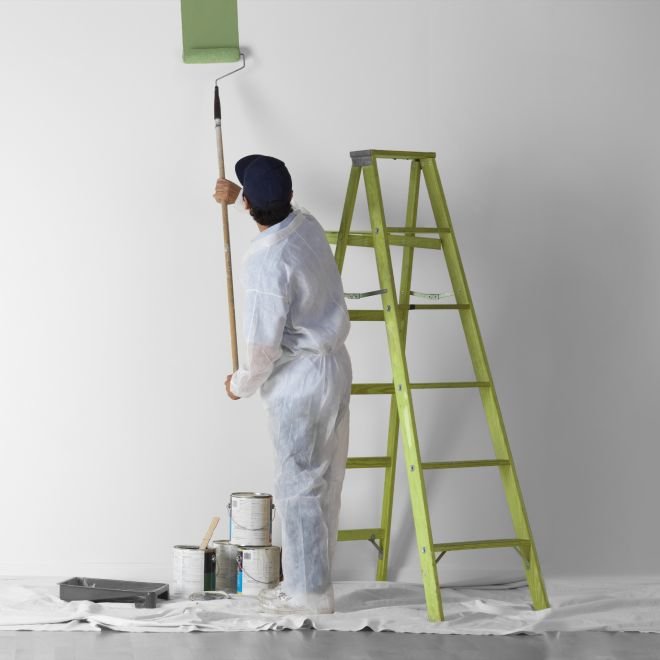 How It Works
What to Expect When You Join Wreno as
a Vendor
First, you'll create a vendor profile with details about your business such as hours and location.
Next, upload your documentation to our secure portal. Wreno will review the documents and let you know your compliance status.
If anything is not compliant, we'll let you know exactly how to fix it.
Once you're compliant, you're cleared to take jobs with your customer - and maybe others.
Job Categories
Job Opportunities for Every Trade
We connect property managers with contractors of every 
specialty and trade in the business.
Less Guessing
Cabinetry
Carpet/Flooring
Cement/Concrete
Countertops
General Contractor
Haul Away/Junk Removal
Insulation
Roofer
Windows
Faster Enrollment
Appliance Repair
Cleaning
Garage Door
Handyman
Locksmith
Paint
Pool Cleaning
Pressure Washing
Snow Removal
Grow Your Business
Electrical
Home Inspector
Pest Control
HVAC Technician
Landscaping
Mold Remediation
Plumbing
Septic/Sewer
Solar
Questions About VendorEase?
How do I get more information?
We're so glad you're interested in Wreno! To get more information, you can click "Contact Us" at the bottom of this page. Or, send our team an email at support@wreno.io at any time to learn more. We'll get back to you in 1-2 business days.
Do you accept document uploads directly from me?
Yes! You can easily upload your own documents directly to the portal. Then, monitor their status as we review them for validity and compliance.
How does Wreno find new customers and jobs for me?
Once you've created your vendor profile, you'll be added to our vendor database. From there, property managers will be able to search for you and assign you to new jobs after onboard.
What are some common compliance requirements?
Compliance requirements vary widely by partner, but you can expect to need to meet or surpass certain limits of insurance. Specific verbiage in text fields, such as the Certificate Holder field, is also common.
How do you notify me of when / why I'm non-compliant?
If you have uploaded all your documents but are still noncompliant, you will get an email and also receive a notification in the portal. You can check your status at any time in the portal, which will also outline the reasons for noncompliance if applicable.
Do I need to upload new documents for all my partners?
Some documents will be the same for all partners - for example, your W9 and professional license. You will not need to upload these documents twice. However, if a new partner has different requirements than your current partners for your COI or other documents, then you will need to upload a different version of that document that complies with the new partner's request.
Next Steps
Join Wreno as a Vendor
Ready to connect with your customers and get more jobs?

Join our network of trusted vendors.
Join Us